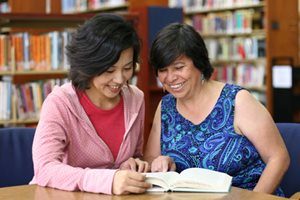 One in six adults in Santa Clara County lacks basic literacy skills resulting in personal, social and economic disadvantages. Some also struggle to support their children's education at home. The Library's free Reading Program addresses these issues, pairing a volunteer tutor with an individual learner to improve basic reading, writing and comprehension skills, and providing various family literacy services. Every SCCLD library location offers this program that helps close to 200 adult learners annually achieve their personal, professional, and family goals.
"Thanks to my tutor, I now feel confident at work and in my life. My goal of opening my own restaurant is becoming more real,"

"I learned that I can make learning fun for my kids. And I'm glad I got some ideas on what I can do with my kids at home."

Feedback from Two recent Learners
There is an average wait time of three to six months to match a learner with a trained and available tutor. We know it takes courage for the potential learner to ask for help, so it is our goal to reduce the wait time and train more qualified tutors sooner so that we can provide
timely learner and tutor matches.
In addition to one-on-one literacy instruction through our amazing volunteer tutors, the Reading Program also hosts educational workshops; fun family events to support building a literacy-rich home environment; and appreciation events to celebrate the time and effort that our learners and tutors put into learning, achieving goals, and making dreams come true!
---