Early Literacy for Pre-Schoolers
Music promotes important aspects of every child's development. Through music, children can learn faster and more effectively, especially when games, rhymes and movement are combined. In 2023, a grant from Gilroy Foundation helped SCCLDF fund a novel program for at-risk, low-income preschoolers. This program was offered by the Gilroy Library through a partnership that included the Children's Librarians of the Library District, Head Start, and the Gilroy Union School District's preschools. It was held as an early learning and literacy bilingual outdoor concert at Rebekah's Children Services for Pre-K to 1st grade children. Children at neighboring preschools and Gilroy Prep Elementary were invited. They used their English and Spanish language skills while enjoying and engaging with the bilingual educator, children's author and recording artist Jose-Luis Orozco. Mr. Orozco promotes early literacy while celebrating the Hispanic culture through his field-tested use of traditional Latin American songs and original compositions in English and Spanish in multicultural classrooms. His music and stories resonated with the children and their families who attended the concert. The strategically planned event met partner goals to promote cross-cultural literacy with the positive impact on display as children followed requests to express themselves and move to the musical rhythm and tempo. The SC County Library's vision to be welcoming and inclusive includes providing support and guidance such as this to families of all socioeconomic backgrounds and family dynamics. 227 participants exceeded the planned estimate of 150!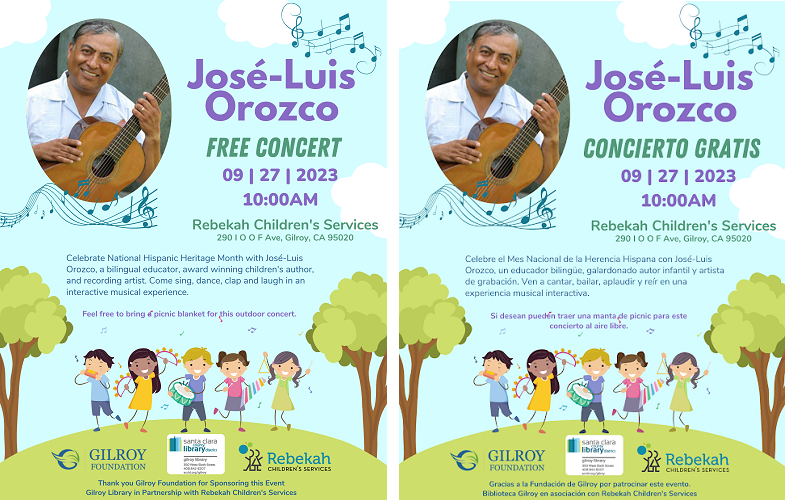 ---
---

Story Walk
Early Learning for children ages 0-6 is a priority goal for the SCC Library District. The portable Story Walk installation made possible by a grant from the Rotary Club of Morgan Hill conveniently continues reading and literacy engagement outside of the Morgan Hill Library. At year-round accessible outdoor sites in the community, pages taken directly from a children's book are mounted and installed along an outdoor path. Youngsters and their families can walk, read, and interact with the book and with each other in a new and appealing fun activity.